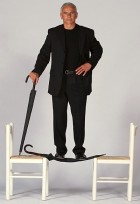 Ideal Tool of Self-Defense from Never-Thought-of-It Enterprises


To make Unbreakable® Umbrellas truly BIFL (Buy It For Life) items, we offer replacement fabric canopies for them—in case the fabric on your Premium Unbreakable® Umbrella or Standard Unbreakable® Umbrella should get worn-out.
by Mac Mierzejewski, winner of several international full-contact karate tournaments.
Throw High, Powerful and Snappy Kicks with No Warm-Up!
with Pawel Nastula, 1995 and 1997 World Judo Champion and 1996 Olympic Champion.
Your Natural Reflexes Can Defeat Any Attack! No Need for Long Training and Quick Reactions!
Club, Hatchet, Blackjack, Knife, Straight Razor (DVD)
by G. S. and Mac Mierzejewski.
An experienced street fighter, identified by the initials G. S., demonstrates how he practices with the tools of his trade. This stuff comes from the worst neighborhoods of the Eastern Europe.

Now You Can See the Other Side of Self-Defense—A Street Fighter's Practice
by Dariusz Nowicki, world-renowned East European sports psychologist of National and Olympic teams
Learn Mental Training of Champions! Be the Master Every Time!

(One CD with GMMW book in Adobe Acrobat format and recordings of exercises in both mp3 and iPod formats)