Unbreakable® Umbrellas protect against rain and everything else…. Unbreakable® Umbrellas perform in rain and wind just like the highest quality rain umbrellas, but they beat the usual rain umbrellas in sturdiness and longevity. Raindrops just slide off of their high-density teflon-coated fabric. How about protecting against "everything else"? Let the videos below show you the difference between Unbreakable® Umbrellas and the usual rain umbrellas.
Jump directly to videos showing mechanical strength of:
Unbreakable® Walking-Stick Umbrella Standard Model
Unbreakable® Walking-Stick Umbrella Premium Model
Unbreakable® Telescopic Umbrella
Keeping Hold of Your Unbreakable® Walking-Stick Umbrella
Instructions on how to keep hold of your Unbreakable® Umbrella—because it may happen that someone will want to take it away from you….

These videos show mechanical strength of the Unbreakable® Umbrella

Some have wondered whether the Standard model can cut a watermelon just like the Premium model. It can. See the Watermelon murdered execution-style with the Standard model of Unbreakable® Umbrella.


Here is our new, inexpensive model of Unbreakable® Walking-Stick Umbrella with a crook handle.


Coconuts vs. Unbreakable® Walking-Stick Umbrella Premium Model

This video shows wind resistance of the Unbreakable® Walking-Stick Umbrella
To order any model of the Unbreakable® Umbrella click here.

Self-Defense Moves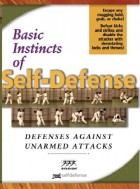 For your defense moves to work under stress they must be based on your natural, instinctive reactions, require little strength and limited range of motion, and be proven in fighting experience.
To learn how your natural reactions can instantly defeat any unarmed attack, see the video Basic Instincts of Self-Defense.
Defend Against Weapons

To defend against weapons you have to know how they are used. Also—every stick has two ends … the weapon of attack may become a weapon of defense in your hand …
To learn how the typical street weapons (club, knife, razor) are used by an experienced streetfighter and how to practice with them, see the video Self-Defense: Tools of attack—Club, Hatchet, Blackjack, Knife, Straight Razor.
Mental Toughness

Staying cool under pressure is more important for self-defense than being physically fit and technically skilled. If you can't control your mind what can you control?
To learn mental techniques that let you calmly face any threat and act rationally in the heat of a fight, click here.
For a complete list of our products, click here.