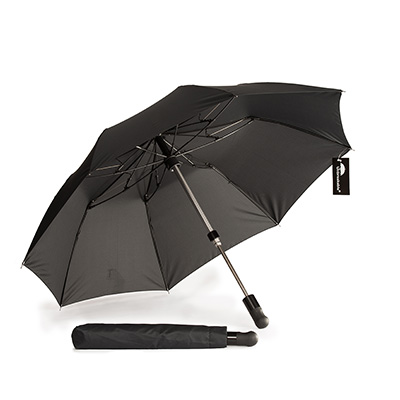 The Unbreakable® Telescopic (Collapsible) Umbrella protects against rain and everything else. . . . Whack just as strong as a steel pipe but it weighs only 1 lb. and 14.2 oz. (855 g).
Does not bring any unwanted attention
The best dual purpose accessory
Protects against rain and many other things….
Watch the below videos showing mechanical strength of the Unbreakable® Telescopic (Collapsible) Umbrella.

Unbreakable® Telescopic Umbrella Model U-202 vs. 2×4 and Boxing Bag


Unbreakable® Telescopic Umbrella's Emergency Car Window Breaker
Our Unbreakable® Umbrella has no unusual parts, does not arouse suspicion, can be carried everywhere, and protects from rain (it is covered in state-of-the-art waterproof fabric). Anyone who can use a stick for defense can use this umbrella.
Do you know how to strike with a baton or sturdy stick? If you do, you know all you need to know…
Do you practice such martial arts as hapkido, kali, or escrima? Then you know even more… and you can truly appreciate this Unbreakable® Telescopic Umbrella.
Our Unbreakable® Telescopic Umbrellas are handcrafted in the European Union from the highest quality materials and perform in rain and wind just like the highest quality rain umbrellas. Frames of Unbreakable® Telescopic Umbrellas Model U-202 are hand-made with high-strength steel and polyester-fiberglass laminates. Telescopic shafts of these umbrellas can support well over 100-kg (220-lb.) weight when fully extended and, if not abused, will last more than a lifetime. Unbreakable® Telescopic Umbrellas are warranted not to break under normal use (see our Limited Lifetime Warranty).
Use and Care Information
It is normal that Model U-202's handle spins freely when the telescope is collapsed. When the telescope is extended, the handle and the rod are blocked from spinning but one can overcome the lock with mild force.
For the Model U-202 telescope's blockade to hold well, the rod has to be pulled energetically, with a snap, so its ball-bearing lock can engage fully.
Whenever your umbrella gets wet, leave it open to dry. Allow your umbrella to dry fully before folding. Otherwise mildew will form on the umbrella's fabric.
Please note: Telescopic shaft of Unbreakable® Telescopic Umbrella model U-202 is made of high-strength construction steel, not stainless steel. After exposure to water the shaft needs to be wiped dry and lightly oiled. Should rust spots be allowed to occur, they need to be removed with a Scotch-Brite pad or steel wool, prior to oiling. Oiling is to be done by putting a drop of machine oil on a soft cloth and rubbing both the tube and the rod of the shaft with the cloth.
IMPORTANT!
Our Unbreakable® Telescopic Umbrella is for defending against elements (in every meaning of the word) and not for clowning. It is covered in a high-quality waterproof fabric, not in abrasion proof or slash proof fabric, because it has to look, weigh, and work like a normal umbrella, so do not expect this fabric to be undamaged if you strike objects with the Unbreakable® Telescopic Umbrella.